Power Washing in Weston, Connecticut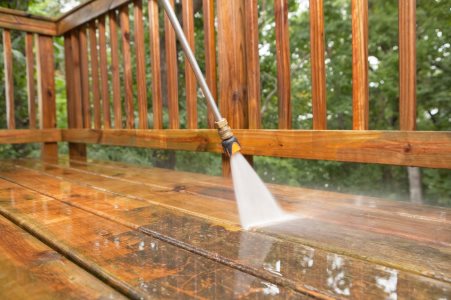 Is it time to Pressure wash your Weston home? Are you searching for quality power washing in Weston? Clara Cleaning Services, LLC's local, highly trained pressure washing technicians will complete your pressure washing project quickly and economical economically. Pressure washing is the most cost-effective method of keeping the exterior surfaces of your home looking new. We'll help you protect your biggest investment.
Clara Cleaning Services, LLC can pressure wash most Weston surfaces:
House siding
Decks
Fences
Sheds
Sidewalks and entryways
Driveways
Garage and carport floors
Roofs
and more! Call to find out about our pressure washing services in Weston Connecticut today!
---
Call for FREE Power Washing Quote
---
WHAT CUSTOMERS ARE SAYING:
5★★★★★ - "I have been using Clara and her team for the past 3 years. They are always on time, very professional and do a GREAT job! I have also used her team for deep cleaning. I highly recommend them!!"

Carrie in Weston, CT

2019-09-09

5★★★★★ - "We've had Clara Cleaning Services come weekly for quite a while. Always friendly, and they always do a very thorough job on our (very) messy house. I almost don't recognize it when we get home. Highly recommend."

Jamie in East Fishkill, NY

2020-07-06

5★★★★★ - "Clara and her team did an excellent job with my house. The house was not in good shape, but Clara made it look new! Highly recommend!"

Mark in Fairfield, CT

2020-05-21

5★★★★★ - "Clara Cleaning does a wonderful job! Always on time, professional, and thorough. Highly recommend!"

Stacey

2020-05-07

5★★★★★ - "Clara is excellent, she was easy to contact and available when I needed her. My entire house was cleaned after renters moved out. I highly recommend her!!"

Richard in Brookfield, CT

2020-05-04

5★★★★★ - "Clara's Cleaning crew did a wonderful and professional job cleaning my house. Loved the special touches on folding towels, tissues, etc."

Trisha in Brewster, NY

2020-02-17

5★★★★★ - "Clara and her team do an amazing job. Even though we live outside the normal service area, they are punctual and reliable. The cleaning service has been excellent and we greatly appreciate the care they demonstrate. We are so happy to be Clara's clients!!"

Meg in Hawthorne, NY

2019-10-29

5★★★★★ - "I would highly recommend Clara's Cleaning Service. Everyone is extremely professional. Clara was very responsive and her teams were always punctual. They always do a fabulous job."

Kelliann Daly in New Milford, CT

2019-10-29

5★★★★★ - "Clara's team has been providing house cleaning services for 2+ years. They are excellent, flexible, honest, trustworthy and provide high-quality results every time. Timely communications."

Anonymous in Bethel, CT

2019-10-29

5★★★★★ - "I hired Clara and her team to clean my daughter's summer/fall rental and was very pleased with her service! She is always very quick to respond which is important because I was managing it from over 350 miles away. Each time her team cleaned the house it was absolutely spotless and nothing was overlooked! It was an absolute pleasure working with Clara and I will definitely be hiring her and her team again next summer!"

Heather D in Katonah, NY

2019-10-21

5★★★★★ - "Clara and her team did a fabulous job cleaning our barn. We are so pleased and plan to get their help every year! Thank you for getting a tough job done!"

Barbara in South Salem, NY

2019-09-11

5★★★★★ - "We have had Clara's team come to our home for several years solely to take care of our laundry needs. It was difficult to find someone who would fill that need so we were thrilled that it is a service she offers. Clara and her team take great care in every detail. They are courteous, hardworking and professional. Our clothes never looked better!"

Angelina in Ridgefield, CT

2019-09-09

5★★★★★ - "It's wonderful to come home and have the house looking perfect, especially when my children and grandchildren have visited for the weekend! Thank you for your exceptional work."

Dottie McCabe in New Milford, CT

2019-09-09

5★★★★★ - "I live in Newtown. The ladies, Enma and Martha were the best. We have 2 Saint Bernards and 6 cats. They make quite a mess but the house was always super clean. Floors always looked great. Ladies were great"

Anonymous

2019-07-08

5★★★★★ - "We have been using Clara and her team cleaning services for the past few years. They are very courteous and polite. The team arrives on time and does a great job each time. Requests are always met with professionalism and a positive attitude. They are trustworthy, proactive and hardworking too. Highly recommended."

Eileen in New Fairfield, CT

2019-06-27

5★★★★★ - "I always believed that no one could clean my house better than me.
Clara-Cleaning Services proved me wrong!
They are reliable, professional, and very courteous.
I highly recommend them. They are the best."

Maria in Somers, NY

2019-05-28

5★★★★★ - "Quality service throughout my interaction with Clara's staff. I like the prompt follow up for appointments and on time services. The staff did an excellent job and left the house spotless!"

Ned in Newtown, CT

2019-05-23

5★★★★★ - "Excellent service!"

Lisa

2019-05-15

5★★★★★ - "Clara and her team are great. Each time the ladies come by, they are punctual and get the job done in a decent amount of time. There's no room that Clara doesn't pay attention to detail cleaning. Thanks Clara"

Kim in Danbury, CT

2019-05-14

5★★★★★ - "Clara's crew did an amazing job on our spring cleaning. Not only were they thorough but they were also friendly, left all of my knick-knacks as I had them arranged, and made everything look great. I'm so happy with the results, I would highly recommend them for cleaning services."

Laura in Katonah, NY

2019-04-09

5★★★★★ - "We have been using Clara and her team of professionals for bi-weekly house cleaning services in Newtown for over a year now. To date, we have found them to be punctual, friendly and very flexible. They are detailed oriented and remember to do the little things that always make us look forward to coming home on the days that they were there. I can wholeheartedly recommend Clara Cleaning Services"

Rob Buda, House Cleaning in Sandy Hook, CT

2019-01-18

5★★★★★ - "Was so happy with Clara's. A pleasure to work with and they did such a great job. Thank you!"

Catherine George, Carpet Cleaning in Redding, CT

2019-01-18

5★★★★★ - "best service around you can never find such good service and people"

Paulo Heredia vallejo, Carpet Cleaning in Monroe, CT

2019-01-18

5★★★★★ - "great service the people are very lovely and friendly, I do not like to use my normal account but they are for me the best service out there"

hoger, Carpet Cleaning in Roxbury, CT

2019-01-18

5★★★★★ - "These guys are awesome. They do an amazing job. Have used them more than once and each time they've really done an excellent job. They don't just clean, they freshen up the whole place, even placing pillows elegantly and arranging spaces. 100% recommended."

Samuel Brown, Carpet Cleaning in Botsford, CT

2019-01-18

5★★★★★ - "The cleaning crew was on time, professional and were able to understand me in English! They did a fantastic job cleaning our home and they did their own special touches on things as well! I would definitely recommend this cleaning service!!"

Anonymous, House Cleaning

2018-09-24

5★★★★★ - "Clara and her crew have done very nice work for me. I appreciate their attention to detail and their friendly attitude."

Marie in Woodbury, CT

2018-09-18

4★★★★☆ - "Clara and her team are professional, reliable and do the work well. It has been a pleasure using her services."

Neil in Bridgewater, CT

2018-08-07

5★★★★★ - "5★★★★★ - "I have to say they are the best to Trust and I had a situation and they proved their Honesty and Trustworthy. Can't stop thanking Clara Cleaning.. Amazing People!! We rarely get such Good, Honest People any where!! Believe me I always pray for them to reach to their Best in their Carrier. They are one of the Best in Cleaning and very flexible and Mainly Trust and good people. Best in their services!!! Beena" 2018-01-23"

Anonymous

2018-01-23

5★★★★★ - "I love how Clara and her team clean until everything looks polished. They did a move in for me and the fridge had mold but they made it look like new again. I appreciate how they are dignified in their appearance and attitude. When I was in a real tight spot, Clara worked hard to accommodate my needs even though it didn't fit her schedule. I highly recommend their house cleaning service."

Deborah B in Brewster, NY

2018-01-03

5★★★★★ - "Clara's Cleaning Service always does a fantastic job! The girls clean every nook and cranny in my house! They even removed the cobwebs on our front porch! The girls also clean inside the lights we have hanging from our ceiling. They leave the house feeling so much nicer and it also smells so pleasant! They really do a great job and I can't recommend them enough! Thank you ladies for all your hard work! It is so appreciated!"

Anonymous in Newtown, CT

5★★★★★ - "Working with Clara was a seamless effort from 3000 miles away. Their service was professional, on time, and attentive to everything needed to get my home ready for an "Open House" for sale. I highly recommend Clara's services for anything from a light cleaning to a thorough deep cleaning. Wonderful to work with on all levels!!!!"

Steven in Katonah, NY

5★★★★★ - "Doing great! They do it fast and clean."

Kevin in New Canaan, CT

5★★★★★ - "Clara and her team are professional and provide excellent cleaning services. They are incredibly friendly, attentive, and flexible. There is nothing that they won't clean or do for me. I highly recommended them!!"

Margo in Pound Ridge, NY

5★★★★★ - "Clara and her team are top-notch cleaning experts. They are professional, thorough and responsive. My home has never looked so good!"

Carla in Pawling, NY

5★★★★★ - "Clara and her team are professional, friendly and very flexible. They are not like the typical cleaning service that simply goes through "the motions" , they rotate the cleaning schedule meaning that they pay attention to what needs to done when they visit us, and do different things each time while always making sure the basics are covered. I often work out of my home office and find that they are very discreet and not loud. They are detailed oriented and will remember things that you've asked them to pay attention to. Another good thing is that they love our dog! I would strongly recommend Clara's Cleaning Services... with our busy work schedules, my husband and I are so grateful we found them!"

David & Marie in Redding, CT

5★★★★★ - "I have been using Clara's cleaning service for 2 months now. She is extremely efficient as is her staff. Very punctual and very dependent.
I would highly recommend this service."

Cathy Hansen in Newtown, CT

5★★★★★ - "Clara and her team are very professional, friendly, on time and detail oriented. They listen to your special requests and do offer more than the typical cleaning services. Another good thing is that they love my dog! I would recommend Clara Cleaning Services...with our busy work schedules, my husband and I are so happy we found them!"

Marie-Christine in Redding, CT

5★★★★★ - "Cleaned everything in great detail. Pleasant and responsible staff. Will definitely call them again and recommend the service to others."

Anonymous in Goldens Bridge, NY

5★★★★★ - "Clara's team are excellent, friendly and professional! I find that they actually do more than other "cleaning" services do...they get into all those little nooks and crannies...and do different things each time! I have a very busy schedule and I finally found a good cleaning team to help me relax on my day off! Strongly recommend Clara's Cleaning Services!...and my dog loves them too!"

Marie-Christine in Redding, CT

5 ★★★★★ - "What an amazing job the team did cleaning out an apartment! It looked amazing! I will hire the service for my new home."

Bonnie in Monroe, CT

5 ★★★★★ - "I would and will recommend Clara and her crew to all my friends and family. My first time experience was great, she's an awesome person, sweet and caring. Her crew were excellent! I can't wait to have her back, and her prices are very reasonable."

Rusty in Bedford Hills, NY

5★★★★★ - "I am very satisfied with the service provided by Clara Cleaning to clean my 1 bedroom apartment in Danbury after painting. This included kitchen appliances, windows and carpet cleaning. They handled the job with a professional attitude. They arrived promptly as planned. The products worked well and there was no strong chemical smells. Thank you."

Stanislaw Banka -Danbury, CT

2016-04-28

5★★★★★ - "Excellent! Clara's Cleaning Crew gets into all the little nooks and crannies past cleaning people I have had always missed. After a cleaning, I come home and am completely satisfied with a job well done. I highly recommend Clara's Cleaning Crew all the time to friends and family!"

Juliette D. from Carmel, NY

2016-04-14

5★★★★★ - "I have been using Clara's twice a month since Summer 2015. They are incredibly sweet and aim to stick to a specific time (something that is very important to me and is hard to find elsewhere). The crew is always incredibly accommodating and they are careful with your house. Perhaps most importantly for a cleaning service: they do a great job. Also, for what it's worth, my dog loves them. We both are really happy on the days they come."

Kristin U.

2016-03-04

5★★★★★ - "This service consistently delivers. From the first time they cleaned my home to the most recent visit, the excellent quality has been constant throughout. I highly recommend this reliable, friendly and professional service."

Markus B.

2016-03-04

5★★★★★ - "Very very happy with clara's cleaning. Patricia is a lovely woman and they do a great job! Recommend them highly."

Kathy P.

2016-03-04

5★★★★★ - "Our home is always shining from top to bottom when its been cleaned by Clara's Cleaning crew. They happily will take on any special projects that we may have. I love that they're willing to use all my homemade natural cleaning products…healthier choice for all of us! I also appreciate their flexibility with our unpredictable schedule."

Merri K.

2016-03-04
---
Call for FREE Power Washing Quote
---