Power Washing in Danbury, CT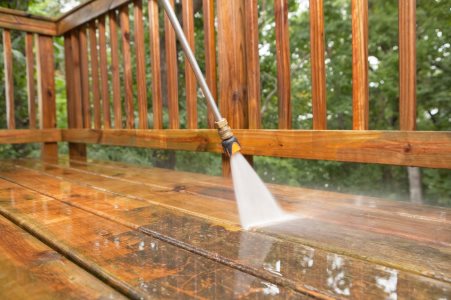 Is it time to Pressure wash your Danbury home? Are you searching for quality power washing in Danbury? Clara Cleaning Services, LLC's local, highly trained pressure washing technicians will complete your pressure washing project quickly and economical economically. Pressure washing is the most cost effective method keeping the exterior surfaces of your home looking new. We'll help you protect your biggest investment.
Clara Cleaning Services, LLC can pressure wash most Danbury surfaces:
House siding
Decks
Fences
Sheds
Sidewalks and entryways
Driveways
Garage and carport floors
Roofs
and more! Call to find out about our pressure washing services in Danbury Connecticut today!
---
WHAT CUSTOMERS ARE SAYING:
"I am very satisfied with the service provided by Clara Cleaning to clean my 1 bedroom apartment in Danbury after painting. This included kitchen appliances, windows and carpet cleaning. They handled the job with a professional attitude. They arrived promptly as planned. The products worked well and there was no strong chemical smells. Thank you."
Stanislaw Banka -Danbury, CT
---
5★★★★★ - "I have to say they are the best to Trust and I had a situation and they proved their Honesty and Trustworthy. Can't stop thanking Clara Cleaning..
Amazing People!!
We rarely get such Good, Honest People any where!!
Believe me I always pray for them to reach to their Best in their Carrier.
They are one of the Best in Cleaning and very flexible and Mainly Trust and good people.
Best in their services!!!
Beena"
2018-01-23
---
5★★★★★ - "I love how Clara and her team clean until everything looks polished. They did a move in for me and the fridge had mold but they made it look like new again. I appreciate how they are dignified in their appearance and attitude. When I was in a real tight spot, Clara worked hard to accommodate my needs even though it didn't fit her schedule. I highly recommend their house cleaning service."
Deborah B in Brewster, NY
2018-01-03
---
5★★★★★ - "Clara's Cleaning Service always does a fantastic job! The girls clean every nook and cranny in my house! They even removed the cobwebs on our front porch! The girls also clean inside the lights we have hanging from our ceiling. They leave the house feeling so much nicer and it also smells so pleasant! They really do a great job and I can't recommend them enough! Thank you ladies for all your hard work! It is so appreciated!"
Anonymous in Newtown, CT
---
Call for FREE Power Washing Quote
---